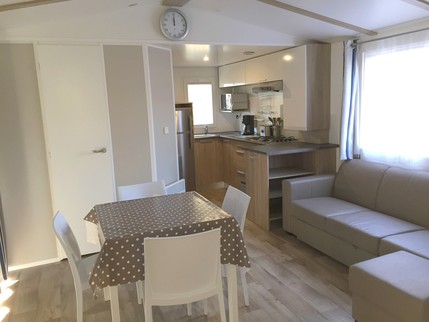 Prices per week 2017
Standard
Comfort
2 persons
4 persons
4 persons
6 persons
01/01/2017 to 04/02/2017
315,00 €
360,00 €
360,00 €
400,00 €
04/02/2017 to 04/03/2017
360,00 €
425,00 €
425,00 €
480,00 €
04/03/2017 to 01/04/2017
300,00 €
340,00 €
340,00 €
360,00 €
01/04/2017 to 29/04/2017
315,00 €
380,00 €
380,00 €
420,00 €
29/04/2017 to 01/07/2017
290,00 €
330,00 €
350,00 €
380,00 €
01/07/2017 to 08/07/2017
340,00 €
400,00 €
425,00 €
480,00 €
08/07/2017 to 19/08/2017
450,00 €
590,00 €
650,00 €
690,00 €
19/08/2017 to 26/08/2017
650,00 €
420,00 €
440,00 €
480,00 €
26/08/2017 to 15/10/2017
300,00 €
350,00 €
360,00 €
380,00 €
15/10/2017 to 31/12/2017
350,00 €
410,00 €
430,00 €
470,00 €
Additional tourist tax : 0,22 € per night and per person + 18 years old
Any additional person will be billed.
Rentals from saturday 3:00 pm to saturday 10:00 am (from june to septembre) and 2 nights minimum the rest of the year.
Our mobile home have a 2, 4 or 6 persons capacity and are situated on pitches measuring 95 m².
It is equipped with terrace, garden lounge, kitchen (fridge, microwave, gas cooker, dishes), living room with television, a bed room with a double bed, one or two other bed rooms with 2 small beds, a bathroom with shower and toilets.
Blankets are included in the mobile home and a barbecue is at your disposal.
Household linen (sheets and towels) are not provided.