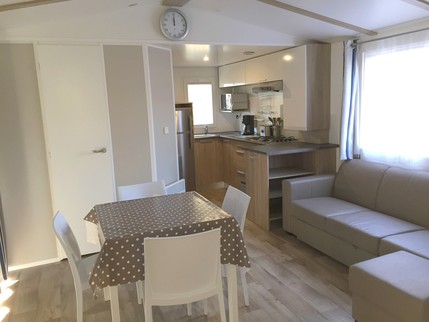 Prices per week 2022
STANDARD
COMFORT
2 persons
4 persons
4 persons
6 persons
01/01/2022 to 30/04/2022

350,00 €

(60€/night)

410,00 €

(65€/night)

440,00 €

(75€/night)

470,00 €

(80€/night)

30/04/2022 to 02/07/2022

290,00 €

(50€/night)

330,00 €

(55€/night)

360,00 €

(65€/night)

380,00 €

(70€/night)

02/07/2022 to 09/07/2022
350,00 €
410,00 €
440,00 €
490,00 €
09/07/2022 to 20/08/2022
500,00 €
640,00 €
700,00 €
750,00 €
20/08/2022 to 27/08/2022
360,00 €
430,00 €
460,00 €
490,00 €
27/08/2022 to 15/10/2022

290,00 €

(50€/night)

330,00 €

(55€/night)

360,00 €

(65€/night)

380,00 €

(70€/night)

15/12/2022 to 31/12/2022

350,00 €

(60€/night)

410,00 €

(65€/night)

440,00 €

(75€/night)

470,00 €

(80€/night)
* Night rental possible out of season with a minimum of 2 nights.
** Mobile homes for 6 people have 3 bedrooms.
Tourist tax in addition: €0.55 per night and per person over 18 years old. Any additional person will be charged.
Mobile home rental from Saturday 3 p.m. to Saturday 10 a.m. from June to September.
Our mobile homes have a capacity of 2, 4 or 6 people and are located on pitches of 95 m². They have a terrace with garden furniture. They are equipped with: a kitchen with gas cooker, fridge, coffee maker, microwave, crockery, a living room with television, a bedroom with a large double bed, one or two bedrooms with two single beds placed side by side, a bathroom with shower and a toilet. Blankets are provided and a barbecue is at your disposal. Household linen (sheets and towels) is not provided.
Our mobile homes are not PMR accessible.
Possibility to rent a location for your mobile home all year round. The rate is €1,300 per year + the occupancy rate per night and the tourist tax when you stay in your mobile home (see "CAMPING" tab "Adult", "Child" and "Electricity" lines)
Mobile home inventory: 1 hair dryer, 1 iron, 1 ironing board, 1 broom, 1 shovel, 1 basin, 1 swiffer, 1 vacuum cleaner, 1 brush, 1 fan, 1 TV, 1 toaster, 1 coffee maker, 1 microwave, 1 fridge-freezer, 1 garden furniture, 2 trash cans, 1 barbecue, 1 mop with its bucket, 2 tablecloths, 6 flat plates, 6 soup plates, 6 dessert plates, 6 knives, 6 forks, 6 teaspoons soup, 6 teaspoons, 6 bowls, 6 cups, 6 glasses, 1 carafe, 1 salad bowl, 1 peeler, 1 pair of salad servers, 1 scissors, 3 lids, 3 frying pans, 3 saucepans, 1 colander, 1 casserole dish, 1 glass dish, 1 trivet, 10 hangers, 2 pillows 50x70, 2 pillows 60x60, 1 bolster, 3 blankets, 3 duvets, 3 waterproof mattress protectors, 1 set of sofa throws.